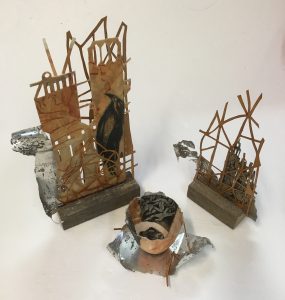 I am drawn to the disparate – the obscure and familiar, the real and imagined, the macro and minuscule landscape. Often calm and turbulence lie side by side with ideas of absence and presence in my work.
Miranda Beeson's poem Flight inspired the new works Tower 1, Tower 2 and Ground Zero, where images of tower/cage, flight/journey, tangled forms/fragments, water/smoke, extend my interior landscape of personal symbols.
The process of etching on paper and rice paper, collage of paper and wax, assemblage of mixed media (paper, wax, wood, ink, aluminium) by layering and overlapping of images, creates an ambiguity about narrative and meaning where memory and imagination can come into play in the viewer's mind.
Jennifer Long 2017
TOWER 1, 2 & GROUND ZERO will be on display at the Judith Wright Centre from 24 August – 24 September, 2017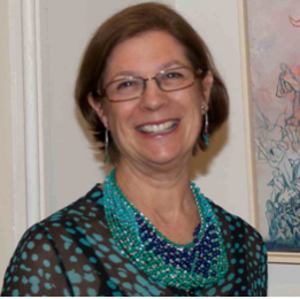 Brisbane visual artist Jennifer Long sources and collects a wide range of imagery from family history, current events, the landscape and found objects. She explores a range of mark making through mediums of paint, etching, drawing, collage and 3D objects to express disparate and evocative ideas.
She has studied Fine Art in a BA degree from University of Queensland and has an array of art skills from ceramics, painting and life drawing developed at Queensland College of Art, Brisbane Institute of Art and varied workshops in print and lithography at the Lancaster and Impress Studios. She has pursued etching for the past 6 years at the Brisbane Institute of Art and received a number of art awards with her work in corporate and private collections.
She has been represented by the Charles Ginn Gallery and Bosz Gallery, Brisbane.