Students from a small school in Central West Queensland immersed themselves in the magic of mosaics for the last week of Term 1 2019.
Flying Arts artist Pamela Denise travelled to Barcaldine to deliver the workshops and shares her experience below.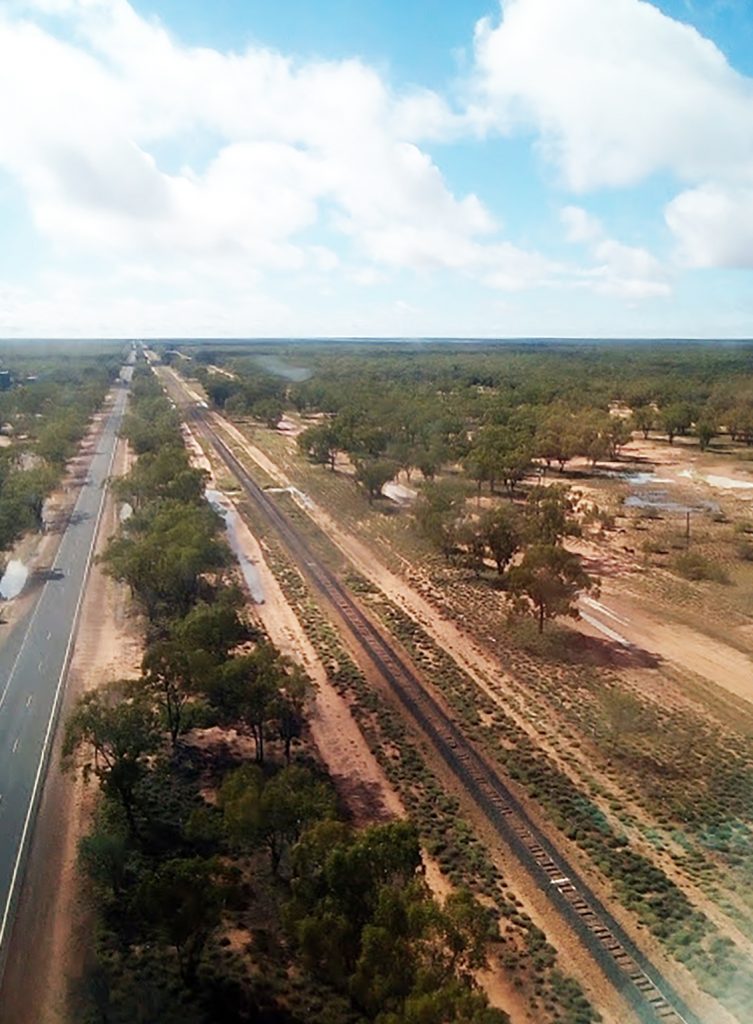 Refreshed by recent heavy rains, the town sparkled. The diversity of trees and shrubs thriving in the town gardens is extraordinary. I discovered this is because the artesian water used for the town water supply is 'soft' and relatively cool as it comes out of the ground. The town is famous for being the birth place of the labor union movement with a famous shearer's strike in 1891. This is commemorated with award winning Tree of Knowledge, the most remarkable public art installation I have ever had the pleasure of visiting. Happily, I was in town to spend time at a local school making a series of artworks, including our very own public art installation of sorts!
The main aim of the project was to share with the students as much as possible about mosaics. I delivered a suite of practical workshops to cover:
– How to approach design development
– How to design a mosaic in consideration of the materials available
– How to make curved shapes using square tiles
– How to make a major work in mosaic suitable for external installation on the side of a building
– How to work in an arts studio space
Outputs included:
– Paper Mosaics (works on paper) – Level 1, 2, 3
– Ceramic Mosaic on Wooden Crosses – Level 1, 2, 3
– Mosaic Pavers 300 x 300 mm – Level 3
– Ceramic mosaic of the School Badge 900 x 900 mm – Level 3
– Pop up Gallery in the arts studio space so that all the artworks could be viewed and admired by the students and visiting parents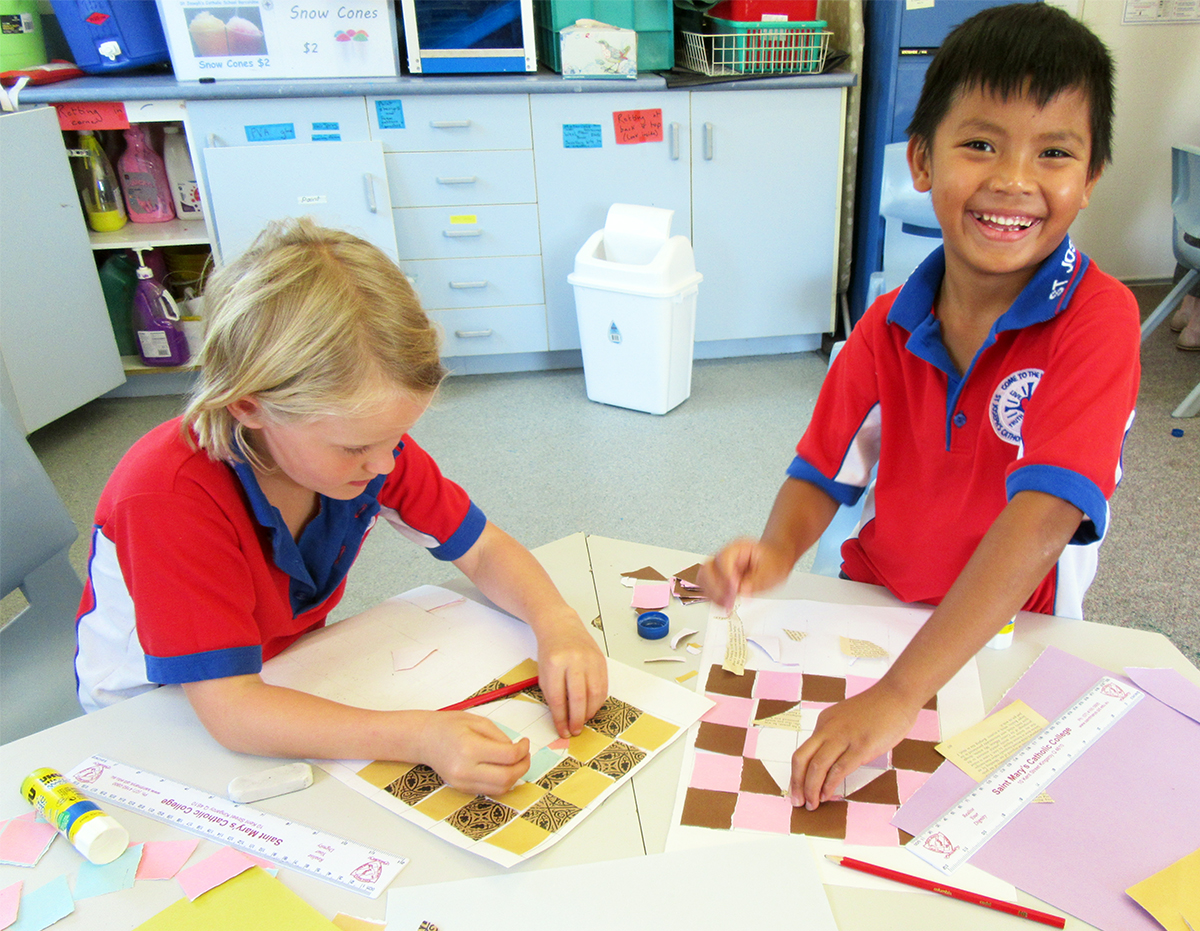 Students work enthusiastically on their paper mosaics. Image: Pamela Denise
The highlight was being able to roll out a suite of mosaic workshops across a week rather than a couple of days. This meant we were able to progress from basic training by creating works on paper (paper mosaics) and culminate with a collaborative major work using professional standard tiling equipment and materials. This was very satisfying for both the students and myself! The students who participated now have a thorough understanding of professional standard mosaic and how to create a meaningful artwork.
We created the large ceramic mosaic of the school badge to install either in the grounds at the entrance of the school, or in the foyer. It is an important contribution to upgrade the school grounds and buildings, which improves the amenity for the current school community. There were already some mosaics installed at the school that are now better appreciated.
The individual works the students created will be used as works for the Barcaldine Show in Term 2 and the Barcaldine Art Exhibition later in the year.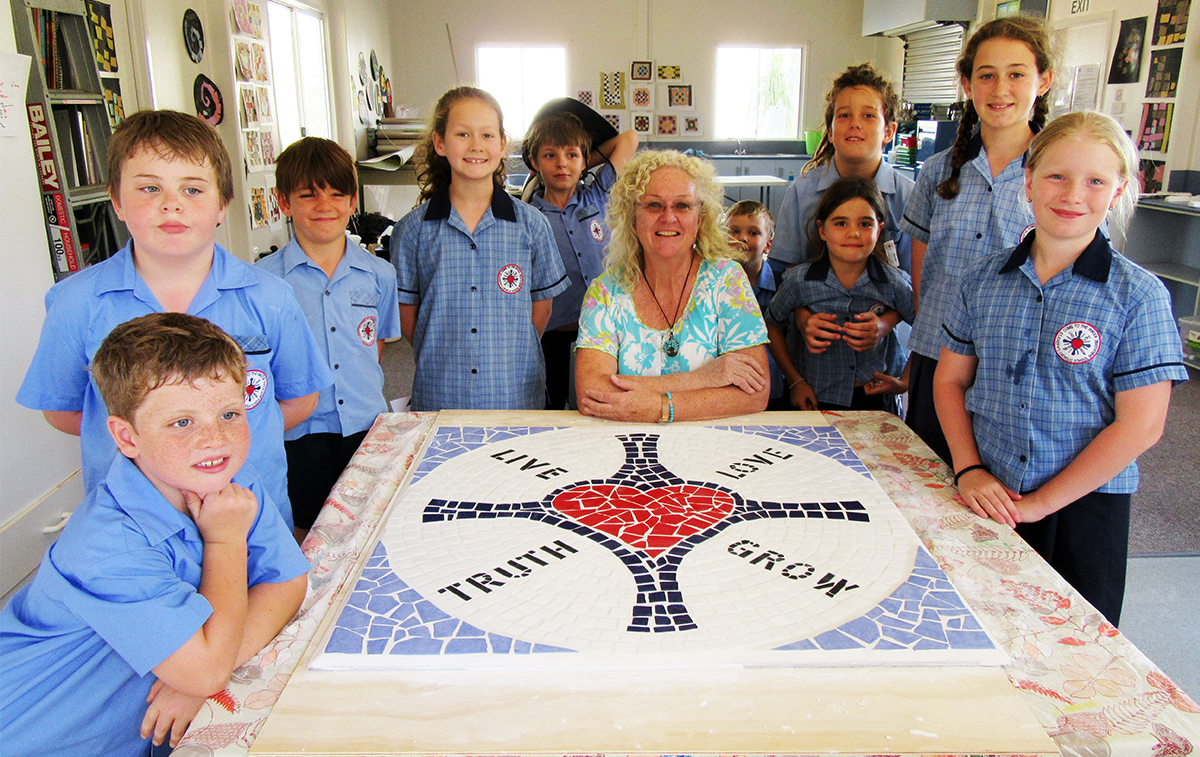 Students and Flying Arts Facilitator Pamela Denise show one of their major completed outcomes. Image: Cally Mitchell
---
This workshop was booked as part of our By Request programs.
By Request programs are available on-demand, and can be booked on behalf of schools or creative communities such as groups, festivals, local government and organisations. By Request programs can be delivered by our Flying Arts Artist and Facilitator Team anywhere across Queensland.
---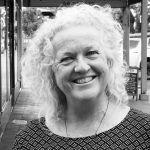 Pamela Denise is a multi-disciplined, professional visual artist and community development worker. She has been devising and delivering community arts based projects, programs and workshops for local councils, state government departments, schools, NGOs, regional arts councils and Flying Arts Alliance for many years. Pamela regularly collaborates with people exploring art forms that reveal a sense of self, community and place. Outcomes often include a public art installation or presentation at events like festivals.