Janet Ambrose is excited to be selected as a featured artist at the Judy program, noting it as another great addition to her CV. Living remotely in North Queensland she has limited places to exhibit locally so having the opportunity to exhibit in Brisbane is great.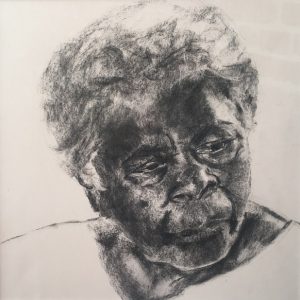 "The biggest challenge is the size and space of the plinth with the work I had chosen to exhibit. In saying that, the plinth creates a little world of its own so I liked the challenge of choosing what work would look best in this space.
I am working toward a solo exhibition in September 2020, I have been meeting with our local Australian South Sea Islander community gathering portraits and collecting stories. Conversations are the treasured memories of complex oral histories, passed down in generations. 
For some, these conversations continue within families and friends, and for others, forgotten in time with the assimilation to the western way of life. I am drawing and painting portraits accompanying them with stories and images of the landscape they live in. I will be using different materials to create this imagery, hessian, calico, the fabric, Voile and paper, all put together in a mosaic that will fill the gallery space.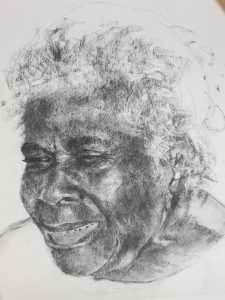 I will be exhibiting at Artspace in Mackay, a solo exhibition from September 25 to November 29, 2020. The title of the exhibition is Conversations with Australian South Sea Islanders: a part of Australian History.
This is an ongoing project of meeting with people of our community capturing their portrait and gathering a story about them or something that makes them happy. Ordinary people have the most extraordinary lives when you least expect it.  It's changing perceptions of what we think we 'see'.
A quote by Richard Bach rings true here: "All we see of someone at any moment is a snapshot of their life, there in riches or poverty, in joy or despair. Snapshots don't show the million decisions that led to that moment."
Janet's work will be on display at the Judith Wright Centre from 30 August  – 22 November 2019 as part of the Seasonal Sittings of Tiny Art – Spring.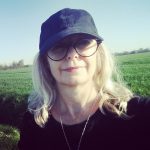 Janet Ambrose was born in South Australia to English migrant parents who encouraged a multicultural and creative life in their new Australian home. Influenced by her tutors, including Adelaide's Jam Factory potter, Bruce Sellick through the Stanley Street School of Art, who encouraged her distinct drawing style, and later by landscape and portrait artists Terry and Lorraine Lewitzka, Janet was inspired to confidently explore her unique way of looking at her subjects. Working with a diverse range of mediums and materials, Janet has never been afraid to experiment, keeping her work fresh and alive with movement and emotion. In recent years, she has been working predominantly in charcoal and oils paints, beautifully capturing the character, light, and life of her subjects, whether they be people from her local community or the vast landscapes that dominate the South Australian coastline, or the canefields and mountains of her North Queensland home.